Any type of Service Request, for any Department. No limits.
PSR is a free to the Public tool, enabling the public to send requests for services directly to Public Service Providers, to report issues, obtain information, apply for licenses or permits, and make suggestions about any public sector topic.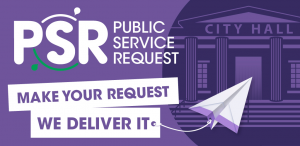 Simple
PSR is based on the vision that connecting the Public to the right public sector Service Provider across local, regional and central Government should be simple, using all mobile and computing technologies.
Effective
PSR solutions enable public sector Service Providers to effectively communicate with, and provide services to the Public.
PSR is extensively used to support internal communications between Staff and Departments, resulting in reduced service delivery costs.
Affordable
Unlike competing solutions that require significant IT resources, time and money to implement and manage. PSR understands your ever-tightening budget constraints,  makes it easy to implement progressively, working with your Staff with solid knowledge of internal operations.